100% recycled and biodegradable
Our seed paper is created with 100% recycled materials and is 100% biodegradable. Our paper is eco friendly, beautiful and has the added benefit of growing into flowers, vegetables, trees or herbs. We make our paper from all recycled, raw materials; such as paper, t-shirts, dried flower petals, coffee grounds, pine needles, shredded dollar bills and many many more other items from nature.

Each one of our products are made carefully and thoughtfully one at a time by our in house production team. We take the time and effort to tie, cut, package and send each one of our items.

Quality, crafted from the finest of materials
Grow brand awareness, product interest and customer loyalty with our quality seed paper items. each one made from the highest of quality materials
Our seeds are purchased locally, and are laboratory tested for purity and germination.
Symphony Handmade Seed Papers
Symphony has served thousands of satisfied customers. From small businesses, to large multi-national corporations with A+ satisfaction and service in all of our industry organization
our mission in this life is to act as an instrument of positive change in the world. We are focused strongly on providing environmentally friendly greeting cards, promotional gifts, toys, journals, invitations and giveaways. 
By using organic, recycled, biodegradable and recyclable material that can be planted to grow into flowers, trees, vegetables and herbs, not only is Symphony Seed Papers helping to ease the recycling effort to the consumer, but we are providing a fun, beautiful way to green the earth!
Every time you read a magazine, drink from a juice box, or blow your nose, you're using paper. Today, we take paper for granted. But it was once a treasured secret. About 2,000 years ago, the Chinese figured out how to make paper from plants or cloth. They traded paper and other valuable goods along the Silk Road with empires to the west. Paper made it easier for people to record and share ideas. As paper spread across the ancient world, it sparked a new age of learning. We have a state of the art paper making warehouse, and over the years have made custom papers in very large quantities for some of the largest corporations in the world. 
Seed paper is created with 100% recycled materials and is 100% biodegradable. Our paper is eco friendly, beautiful and has the added benefit of growing into flowers, trees, vegetables or herbs. We make paper from all recycled raw materials such as paper, T-Shirts, dried flower petals, coffee grounds, pine needles, shredded dollar bills, and many other items from nature. Made in the USA.

SOME OF OUR HAPPY CLIENTS
One of our favorite items here at symphony. Add a touch of elegance and class to your order. These bloom boxes have been carefully foil stamped onto matte black card with your logo and design. Each boxed comes with a single rose hancrafted from our brilliant line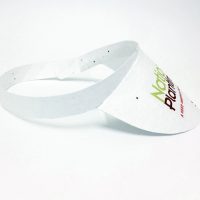 Promote your brand by wearing it! These one size fits all sun visors are handmade from our very own seed embedded paper. this is an environmentally friendly, sun safe promotion.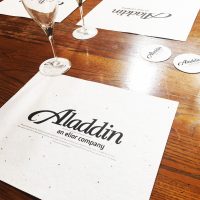 Our seeded placemats are handmade from 100% biodegradable materials and embedded with seeds to grow flowers or herbs. It's the perfect accompaniment to any business dinner. After the event your guests can take them home and plant them to grow a garden. 
A simple, yet effective way to show your business name. These door hangers are 100% biodegradable and can be planted to grow a variety of herbs or wildflowers. With dimensions of 3" x 5.5" there is plenty of room to display your logo and to add any  necessary information for the promotion of your company.
I have been in this business for over twenty years and have never worked with a company who is as spectacular as Symphony Seed Papers. They consistently create new products, ideas and programs especially for my client who requires unique, one-of-a-kind promotions. The creativity and desire to surpass my client's expectations is fabulous. They are truly a fine business partner and one of the greatest assets of my corporation. All suppliers should aspire to achieve the level of customer service that Symphony Seed Papers provides on a daily basis. I highly recommend them and always look forward to working with them.
"Our client received the seeded invitations Monday and sent them out that afternoon. They love them! (As do I….I was the recipient of one of the invitations.) They truly are elegant and wonderful. Thank you for all of your help."
My client's bookmarks were delivered on Friday, and passed out on Saturday. She reported that everyone was absolutely thrilled with them.  She thanked me profusely for making that order happen and I in turn thank you!
That's the kind of customer service that keeps my clients coming back to me, and me coming back to you.